Retirement Industry People Moves
J.P. Morgan announces insurance and annuities head; Verity Asset Management names chief governance officer; River and Mercantile consulting business announces rebrand; and more.
Reported by
DJ Shaw
Art by
Subin Yang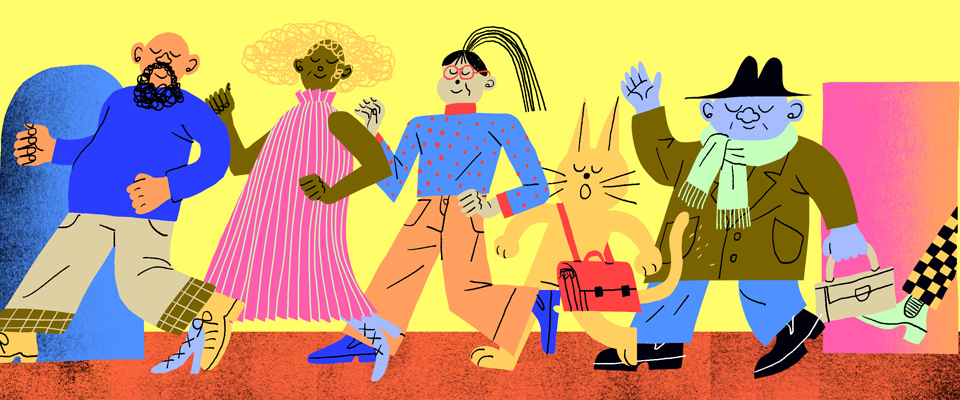 Nationwide Promotes Pension Risk Transfer Business Leader
Nationwide has announced that Paula Cole has been promoted to vice president. Cole will continue to lead Nationwide's pension risk transfer business.
With a career spanning more than 20 years, Cole's leadership over the past two years at Nationwide has been instrumental to the company's success re-entering the PRT market. She helped develop the strategic direction for Nationwide's PRT business, which achieved more than double its annual sales goal for 2021. Her team's size has doubled in the past year based on the rapid sales growth.
"Since re-entering the PRT market, we have elevated and accelerated our people, processes and tools. As we strive to become an industry leader, supporting plan sponsors and members, Paula's promotion is indicative of our commitment to our strategy and aggressive plans for growth," says J.J. Perez, president of Nationwide Corporate Solutions. "PRT is a business we're committed to for the long term. Under Paula's leadership, our team takes advantage of Nationwide's core competencies with some of the top talent in the industry, delivering on our promises with extraordinary care."
Nationwide's PRT business leverages nearly 100 years of annuity, defined benefit and risk management experience, as well as the company's financial strength, to serve a legacy book with more than 500 contracts and 20,0000 annuitants, as well as 10,000 annuitants added since Nationwide's 2020 PRT market re-entry, with a focus on personalized service and transition simplicity. In 2022, the business will expand capabilities to customize for plan needs, including asset-in-kind, cash balance and separate account transactions. 
In addition to her professional accomplishments, Cole serves as vice president for Nationwide's African American Women Associate Resource Group. She is also an active leader in supporting colleagues through performance management, mentorship, and diversity and inclusion efforts. She serves her local community as a member of the board of directors for Thurber House and as a district activist leader for the National MS Society.
J.P. Morgan Announces Insurance and Annuities Head
As the company continues to build out its insurance and annuity capabilities, J.P. Morgan has announced that Paul Hewitt has joined the firm as head of insurance and annuities for the U.S. private bank, reporting to Laura Pantaleo, head of insurance and retirement solutions.
In this new role, Hewitt will be responsible for growing U.S. private bank adviser and client adoption of annuity and insurance products. He will partner with J.P. Morgan's product, business development and advice teams to design education and thought leadership as the company rolls out this new offering for the Private Bank. Hewitt will engage with advisers to deliver advice and promote solutions to help clients achieve the peace of mind associated with the location and protection of their assets.
Paul brings more than 25 years of experience focused on insurance-based solutions and estate planning for America's wealthiest families. He spent eight years at UBS Private Wealth Management, including serving as head of insurance sales and distribution with responsibility for sales strategy, growth, delivery and execution. Prior to that, he was with Merrill Lynch for a decade, where he was responsible for insurance solutions for the Private Banking & Investment Group and U.S. Trust business.
Verity Asset Management Names Chief Governance Officer
Verity Asset Management, a registered investment adviser, has appointed Robert McLean as chief governance officer of its newly launched service offering, the plan governance platform Vynntana. Vynntana provides a suite of tools and services in support of 403(b) and 457(b) plan sponsors and the non-Employee Retirement Income Security Act retirement vehicles they provide for their eligible employees.
Having served since 2008 in the employer-sponsored retirement plans space, McLean joined Verity Asset Management in October. Former president and CEO of independent third party administrator U.S. OMNI, he brings a wealth of knowledge and senior-level executive experience acquired in roles ranging from chief counsel and C-suite executive to public sector retirement plan industry consultant. He earned his juris doctor from Villanova University School of Law and his bachelor of arts in political science from Boston College.
His responsibilities will include designing operational policies and procedures, service offerings, training systems, and customer experience systems underpinning Vynntana.
River and Mercantile Consulting Business Announces Rebrand
As part of the sale of River and Mercantile to AssetCo in the UK, its U.S. consulting business has announced a spin-off, creating an independent, privately owned investment, actuarial and risk management group. Led by the U.S. management team and rebranded as Agilis, the new entity will remain focused on serving institutional investor clients with the same team in place.
The spin-off will reinforce client focus for the organization and better position the team for future growth. Agilis' core business will continue to focus on custom solutions delivered through outsourced chief investment officer, actuarial and investment consulting, derivatives management, and pension actuarial and administrative services, including annuity buyouts and plan terminations.
With approximately 40 professionals across the U.S., Agilis is headquartered in Boston, with other offices in New York City and Denver. The full U.S. consulting team will stay intact, including leadership of the U.S. organization.
« ERISA Advisory Council Recommends Reviewing Penalties for Plan Leakage