Retirement Industry People Moves
AIG names new chief investment, risk and underwriting officers; Verus adds two senior consultants in Chicago; LIMRA hires two industry executives to join research leadership team.
Reported by
DJ Shaw
Art by
Subin Yang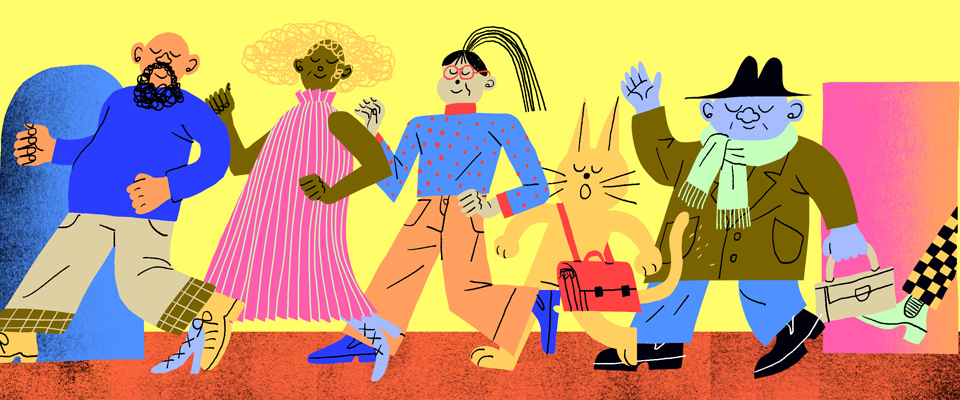 EBRI Announces Appointments to Retirement Security Research Center
The Employee Benefit Research Institute's Retirement Security Research Center has announced the appointment of Naomi Fink as chairperson and Kelly Hahn as vice-chairperson of the think tank known for data-driven analyses of the current state of retirement planning and spending.
Fink is a retirement economist at Capital Group focusing on institutional retirement. She has 24 years of financial industry experience and has been with Capital Group for five years, during which she has conducted research on retirement-related topics including savings, investment, income, demographics and health. Before joining Capital Group, Fink founded Europacifica Consulting, a global economics and strategy consulting firm. She holds an M.S. in specialized economic analysis (macroeconomic policy and financial markets) from Barcelona GSE, an M.A. from the University of St. Andrews and was nominated to the Japan Society of Monetary Economics in 2014.
Hahn has been a financial and investment industry executive for over 20 years. She is executive director at J.P. Morgan Asset Management, where she works as a defined contribution strategist. In this role, Hahn is responsible for developing and delivering retirement insights into defined contribution plans to improve retirement outcomes. Previously, Hahn worked in investment banking at Goldman Sachs. She earned a B.S. in mechanical engineering from University of Illinois at Urbana-Champaign and an MBA from Columbia Business School.
NISA Investment Advisors Names New Investment Strategies and Client Solutions Director
NISA Investment Advisors, LLC, an independent manager of institutional assets, has announced that Tony Gould, CFA, and a CAIA Charter holder, has joined the firm as director, investment strategies—client solutions. In this new position, Gould will partner across the organization to champion product development and client engagement initiatives to support NISA's future growth. Gould has been with AQR Capital Management as a managing director for almost six years.
Before his tenure with AQR Capital Management, Gould was a managing director, head, global pension solutions and advisory with J.P. Morgan Asset Management for nearly five years. Prior to that, he was a managing director with Barclays Capital. He has also held senior-level positions with Lehman Brothers and Franklin Templeton Investments.
Tony holds a U.S. patent for a proprietary method of replicating a bond index via derivative instruments. He earned a Bachelor of Economics from the London School of Economics and Political Science.
Transamerica Appoints New President of Workplace Solutions  
Transamerica announced the appointment of Phil Eckman as president of its workplace solutions division and member of the Transamerica management board, effective June 1. Eckman is an accomplished, 25-year veteran of Transamerica who currently serves as chief operating officer for workplace solutions. After 36 years of outstanding leadership, Kent Callahan, the current CEO of workplace solutions, will assume the role of vice chairman of Workplace Solutions to support Eckman's transition and drive core strategic initiatives until the end of 2022, when Callahan will retire. Both Eckman and Callahan will report to Will Fuller, president and CEO of Transamerica.
Callahan joined Transamerica in 1986. He has held several leadership positions dedicated to the U.S. and global retirement industry, including president and CEO of Transamerica Latin America, U.S. mutual funds and stable value solutions; president of investments and retirement; and president of employer solutions and pensions. In May 2020, he was appointed CEO of workplace solutions. He also played an instrumental role in Transamerica's acquisitions of Mercer's U.S. defined contribution business in 2015 and TAG Resources, LLC in 2022.
As president of Transamerica's workplace solutions division, Eckman will lead the next phase of expansion, continuing its growth strategy in employer-sponsored retirement plans, employee benefits, stable value solutions, individual retirement accounts and the advice center.
Eckman's experience includes many executive leadership roles at Transamerica, involving managing distribution, directing operations and innovating to build new lines of business. As COO for workplace solutions, he fostered a customer-centric culture, delivering year-over-year improvements to Transamerica's services for financial professionals, employers and customers.
Eckman also serves as president of Transamerica Retirement Advisors, LLC, and on the board of Transamerica Investors Securities Corporation. He holds the Series 7, 63 and 24 securities registrations. Eckman earned a J.D. from William Mitchell College of Law and a B.A. in accounting from Gustavus Adolphus College.