Retirement Industry People Moves
Cohen & Steers appoints DCIO specialist for Northeast U.S. territory; abrdn further expands institutional team; Manulife Investment Management names new global head of retirement; and more.
Reported by
DJ Shaw
Art by
Subin Yang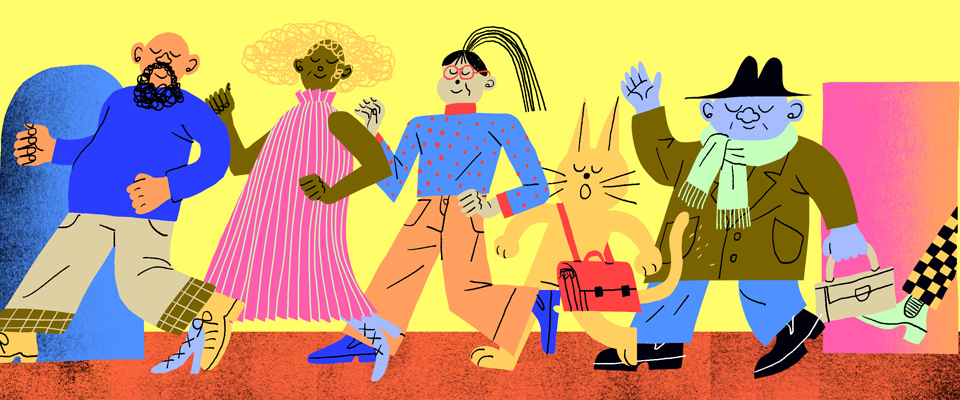 Cohen & Steers Appoints DCIO Specialist for Northeast U.S. Territory
Cohen & Steers Inc. has named Eric Kristenson to the role of vice president, defined contribution investment only specialist for the Northeast U.S. territory. His hire is part of the firm's growing emphasis on the $11 trillion defined contribution market, where Cohen & Steers provides investment management services to qualified retirement plans. Kristenson reports to Charlie Wenzel, senior vice president and head of defined contribution.
Kristenson joins Cohen & Steers with more than 20 years of retirement consultant experience, including 13 years at Oppenheimer Funds. He previously held retirement consultant roles at Principal Financial Group, Fidelity Investments and Canby Financial Advisors.
abrdn Further Expands Institutional Team
Global asset manager abrdn has announced the hiring of Eric Lareau as senior director of institutional business development. Reporting to Eric Roberts, head of U.S. institutions, Lareau is based in Boston.
The latest move in abrdn's active institutional and consultant relations team expansion, Lareau's appointment follows the twin hirings of senior directors Jackie Carr and Elizabeth Kaicher earlier this year. He brings to abrdn a diverse background raising assets across equities, fixed income and multi-asset strategies, as well as relationship management success serving a range of institutional sub-segments, advisers and consultants.
Lareau joins abrdn after almost ten years in similar senior roles with Chartwell Investment Partners and Barings, having spent earlier time in his career with Principal Financial Group, Hermes and Merrill Lynch.
A graduate of Merrimack College, he is also active in the Boston community, volunteering with Lazarus House Ministries and as a founder of the Defeat Cancer Classic, an annual fundraising drive benefitting The Jimmy Fund and Dana Farber Institute for Cancer Research.
Securian Financial Selected as Recordkeeper for WELLthBUILDER Pooled Employer Plan
Strategic Retirement Partners, a retirement plan consulting services firm, has selected Securian Financial as the pooled plan provider and recordkeeper for their WELLthBUILDER Pooled Employer Plan.
Created by the federal SECURE Act, PEPs allow unrelated companies and organizations to band together to create a single 401(k) retirement plan for all their combined employees. PEPs offer employers the potential to offload their retirement plan's fiduciary and administrative responsibilities while combining their purchasing power with other employers to negotiate lower plan fees.
According to the firms, the WELLthBUILDER PEP offers broad and flexible plan design capabilities so each individual employer can select provisions best suited for their needs. Securian Financial will serve as the pooled plan provider and ERISA 3(16) fiduciary, while Strategic Retirement Partners will provide ERISA 3(38) investment management and consulting services for the platform.
Manulife Investment Management Names New Global Head of Retirement
Manulife Investment Management has announced Aimee DeCamillo has been appointed global head of retirement. DeCamillo will be accountable for the strategy, growth and overall success of the organization's global retirement business.
DeCamillo will work closely with teams around the world to ensure the nuances of local markets are represented in a strategic global approach that reflects best practices and drives opportunities for collaboration and leverage across regions. DeCamillo will also collaborate with Manulife Investment Management's public and private markets investment teams to develop investment solutions for the global retirement platform. She reports to Paul Lorentz, president and CEO, Manulife Investment Management and is based in Boston.
DeCamillo has extensive retirement leadership experience, most recently serving as chief commercial officer on the executive leadership team at Jackson Financial, a NYSE-listed life insurance and annuity company. Prior to that role, DeCamillo was president and head of retirement plan services for U.S.-based asset manager, T. Rowe Price. She also spent several years in various leadership roles at Bank of America and Merrill Lynch.
In addition to her work in the retirement industry, DeCamillo has been an active leader in the U.S. retirement market through her work with multiple industry associations, including the LIMRA/LOMA Secure Retirement Institute, where she served as chair of the board, and the SPARK Institute, where she was a governing board member. DeCamillo has also played major roles with diversity initiatives at prior firms and within the financial services industry.
J.P. Morgan Asset Management Hires New Global Data Science Head
J.P. Morgan Asset Management has announced that it has hired Arezu Moghadam as managing director and global head of data science. Moghadam will be based in New York and reports to Kristian West, head of the firm's investment platform team.
In this role, Moghadam will lead the development of artificial intelligence and machine learning methods that will help drive innovative solutions for data-driven investment decision-making, improved client engagement and operational effectiveness. 
Moghadam joins J.P. Morgan from Point 72, where she was head of quantitative analytics for its market intelligence unit. Previously, she was lead quantitative investment researcher for Stone Ridge Asset Management. She has also held roles in Oppenheimer Funds' Global Multi Asset Group and Goldman Sachs' Global Portfolio Solutions. Moghadam has a Ph.D. in Computer Science and master's of philosophy degree in computer science from Columbia University.
TIAA Appoints Chief Digital and Client Experience Officer
TIAA has appointed Jessica Austin Barker as chief digital and client experience officer.
Barker will join the firm in early June, bringing more than 20 years of professional experience. Her prior firms include Intuit, Mint, Credit Karma, TurboTax and Mailchimp. At TIAA, she will lead the digital, client experience, financial wellness and advice and analytics teams. She will report to President and CEO Thasunda Brown Duckett and join the company's executive committee.
Most recently, Barker served as vice president, consumer group customer experience, at Intuit. Previously, she was a segment leader for Intuit's flagship TurboTax product.
Earlier, Barker held roles in marketing and business development for Intuit, and she began her career with Deloitte Consulting. She holds a bachelor's degree in marketing and finance from the University of Texas at Austin. She is actively involved in giving back to her community, including serving as an adviser to Support Young Athletes, a youth-led charity organization.