Retirement Industry People Moves
Impax appoints Ed Farrington as head of distribution for North America; Prudential forms new Prudential Retirement Strategies business; Northern Trust appoints Gary Paulin as head of global strategic solutions; and more.
Reported by
DJ Shaw
Art by
Subin Yang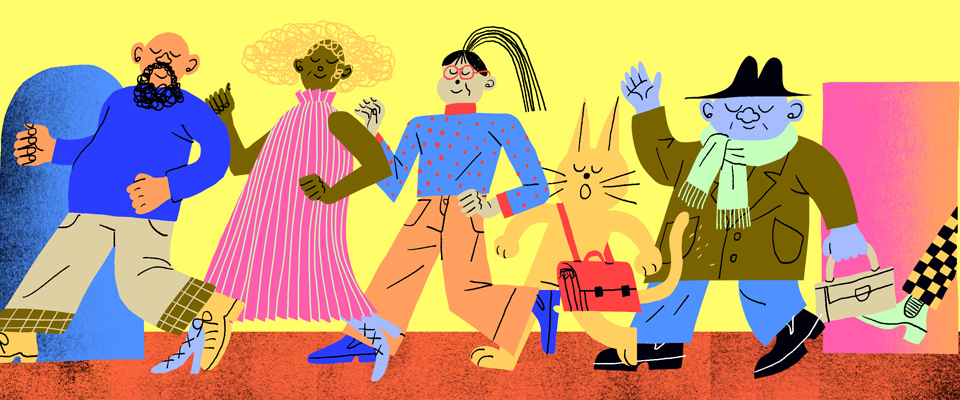 Impax Appoints Ed Farrington as Head of Distribution for North America
Impax Asset Management and investment adviser to the Pax World Funds announced the appointment of Ed Farrington to the newly created role of head of distribution for North America.
Farrington will be responsible for leading Impax's North American distribution efforts, working with the leadership of the institutional and intermediary sales and marketing teams and in coordination with the global client services and business development team.
The appointment was effective September 30, 2021. Farrington will join Impax's executive committee and reports to Joe Keefe, Impax Asset Management North American president.
Farrington is a senior distribution leader with over 20 years of experience in the investment management industry. He has extensive knowledge in all distribution channels, including institutional, intermediary, consultant relations and retirement. He joins Impax from Natixis Investment Managers, where most recently he was an executive vice president and led institutional and retirement business development and consultant relations. For the past several years, he has also held a leadership role on firmwide environmental, social and governance (ESG) efforts on behalf of Natixis and its subsidiaries.
The appointment follows the recent addition to Impax's executive committee of Cath Bremmer as chief commercial officer and the appointment of Christine Cappabianca as portfolio manager of the firm's systematic strategies.
Prudential Financial Aligns Individual and Institutional Retirement Capabilities to Form New Prudential Retirement Strategies Business
Prudential Financial Inc. announced the creation of Prudential Retirement Strategies, a new U.S. business that will serve the retirement needs of both individual and institutional customers.
This new business, to be led by Dylan Tyson, Prudential Retirement Strategies president, will combine the company's individual annuities business and retirement institutional investment products, which includes pension risk transfer and international reinsurance, among others. The move positions Prudential to protect critical financial outcomes for individuals and institutions.
"This new structure brings together market-leading talent and capabilities to focus on a singular mission of solving the retirement needs of individual and institutional customers across the U.S.," says Caroline Feeney, U.S. insurance and retirement businesses CEO.
Yanela Frias, previously president of Prudential Retirement, will become president of Prudential's group insurance business.
"The group insurance business remains an important part of Prudential's purpose and mission." Feeney says. "Yanela is a proven leader whose experience with workplace customers will ensure that we remain well-positioned to serve and anticipate the needs of our partners and customers, and to grow the business."
Frias also retains responsibility for Prudential's full-service retirement plan recordkeeping and administration business until its sale to Empower Retirement closes, which is expected in the first quarter of 2022, pending customary regulatory approvals.
Group insurance president Jamie Kalamarides will be leaving Prudential after the transition of his responsibilities to Frias.
Northern Trust Appoints Gary Paulin as Head of Global Strategic Solutions
Northern Trust has appointed Gary Paulin as head of global strategic solutions for its asset servicing business.
In this newly created position, Paulin, who is based in London, will lead the development and design of innovative solutions that will enable clients to access and benefit from the full range of Northern Trust's global capabilities. Paulin reports to Pete Cherecwich, Northern Trust corporate and institutional services president.
The appointment supports Northern Trust Whole Office—the strategy bringing open architecture multi-asset class solutions to institutional market participants across the entire investment lifecycle.
Paulin assumes the role having previously been global head of Northern Trust's outsourced trading business. He has over 20 years of experience within the financial services industry, having joined Northern Trust in 2016 after the bank's acquisition of Aviate Global LLP, an institutional equity brokerage firm co-founded by Paulin.
Accenture Acquires Advoco, Scaling Capabilities for Intelligent Asset Management Solutions
Accenture has acquired Advoco, one of the largest systems integrators for Infor EAM, a leading software-as-a-service suite for enterprise asset management (EAM). The acquisition expands Accenture's capabilities to help clients in the consumer goods and services, industrial, life sciences, transit and other industries make their operations and supply chains safer, more sustainable, productive and cost-efficient. Terms of the acquisition were not disclosed.
Advoco's mission is to form trusted adviser partnerships with clients across industries. It specializes in configuring and integrating Infor EAM software with companies' existing enterprise and operational systems, and EAM training programs. The solutions and services Advoco provide are designed to help clients enhance the reliability and extend the overall lifecycle of their critical assets.
Founded in 2002, Advoco has been repeatedly named Infor EAM partner of the year. Most of its over 100 asset management professionals are based in Greenville, SC, close to the Infor EAM product development team. Accenture plans to establish Advoco's Greenville office as a center of excellence for Infor EAM delivery, industry use cases and intelligent asset management.
The entire Advoco team joins Accenture's Industry X group in the U.S., strengthening its suite of services for digitizing clients' engineering and maintenance functions, factory floors and plant operations.
"Many of our clients are looking to leverage Infor EAM when embedding more intelligence in their asset management to drive the performance of their most critical assets," says Nigel Stacey, Accenture Industry X global lead. "Advoco is highly respected for its talent, expertise and training program in this space. Together, we will bring Infor EAM capabilities to clients at scale to take advantage of a growing market opportunity."
Ameritas Acquires BlueStar Retirement Services
Ameritas Life Insurance Corp. announced the acquisition of BlueStar Retirement Services Inc., effective September 30, 2021. Terms of the agreement are not disclosed.
Founded in 1991, BlueStar is a full-service recordkeeper and third-party administrator headquartered in Florida. BlueStar specializes in open architecture retirement plans built on a proprietary high-tech and high-service delivery model. In addition to traditional 401(k) plans, BlueStar is a prominent provider of multiple employer plans. They currently serve about 75,000 participants and administer over $4 billion in plan assets.
"This is an exciting time for the Ameritas retirement plans division," says Jim Kais, Ameritas senior vice president and head of retirement plans. "Integrating BlueStar's capabilities with our own will offer advisers a well-resourced service and technology enabled open-architecture platform. We're deepening our expertise in specialty markets like the pooled plan marketplace. This is especially important as this market is seeing significant growth and few providers have robust experience or capabilities in this space."
BlueStar will operate as a subsidiary of Ameritas Life Insurance Corp. The BlueStar and Ameritas sales and service teams will begin collaborating immediately to ensure existing customers experience no disruptions.
Karin van Baardwijk to be Appointed Chief Executive Officer of Robeco
Robeco has announced the appointment of Karin van Baardwijk as chief executive officer effective January 1, 2022.
Van Baardwijk, currently deputy CEO and chief operating officer of Robeco, will succeed Gilbert Van Hassel, who has served as Robeco's CEO since September 2016. Van Baardwijk joined Robeco in 2006 and has held various positions ranging from head of operational risk management to chief information officer. Having been part of Robeco's executive committee since 2015, Van Baardwijk has played an important role in developing and executing Robeco's corporate strategy for 2021 to 2025 and has been responsible for leading several successful transitions.
Van Hassel will stay on as CEO until December 31, 2021, in order to ensure a smooth handover, after which he will relocate back to the United States where he will assume a senior role for ORIX Group based in New York.
PCS Retirement Expands Implementation and Product Teams with Two New Leadership Hires
PCS Retirement announced the addition of Maura Lamb as director of implementation and Jim Lewis as product director.
In her role, Lamb is responsible for overseeing plan implementation operations including the enhancement of the concierge onboarding experience as the firm continues to grow. She brings a broad spectrum of industry experience, including 14 years of holding various leadership positions within compliance, plan design, billing, trading, change control, plan implementation and conversions at SS&C Technologies/DST Systems.
Lewis joins PCS Retirement with over 16 years of experience leading fin-tech product innovation teams, developing investment management platforms and pioneering growth-oriented solutions for financial advisers. With an extensive background developing investment management technology, Lewis is tasked with enhancing and extending the functionality of the Advisor Lab, PCS Retirement's advanced all-in-one solution that helps advisers' prospect, win, manage and retain retirement plan business.
"The addition of Maura and Jim to the PCS Retirement team comes at a great time," says Mark Klein, PCS Retirement CEO. "While we're extremely proud of our growth trajectory, it presents us with the challenge of finding the right talent that can help us nurture that growth and build upon our innovative adviser solutions."