Retirement Industry People Moves
Lincoln Financial Group names new chief officers; Smart appoints merger and acquisition director; and Moneta names chief philanthropy officer.
Reported by
DJ Shaw
Art by
Subin Yang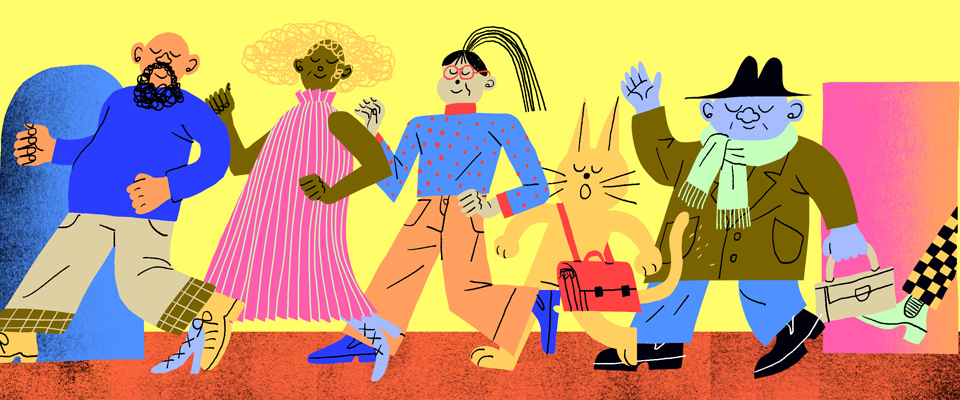 Lincoln Financial Group Names New Chief Officers
Lincoln Financial Group has announced that Jayson Bronchetti has been named chief investment officer (CIO), and Chris Neczypor has been named chief strategy officer (CSO), with both appointments effective immediately. Bronchetti and Neczypor will both report to Ellen Cooper, who will be appointed president and CEO of Lincoln Financial following the 2022 annual meeting of shareholders in May.
Bronchetti succeeds Cooper as CIO and will continue to build on and execute the general and separate account investment strategy, overseeing more than $300 billion in assets.
In the newly created chief strategy officer role, Neczypor will lead Lincoln Financial's long-term enterprise strategic direction and approach to drive business growth to deliver value for shareholders and customers. This will include leading corporate development including mergers and acquisitions (M&As), enterprise-wide strategic planning and competitive intelligence.
Bronchetti and Neczypor each have more than 20 years of industry experience and will join the company's senior management committee, which drives the company's strategy, following Cooper's transition to president and CEO.
Bronchetti most recently served as head of corporate fixed income for Lincoln Financial and is the president and chairman of Lincoln's mutual fund platform. He is an active member of several enterprise committees related to market risk, operational risk, responsible investing and diversity, equity, and inclusion (DE&I). He joined the company in 2013 as portfolio manager of alternative investments and private debt strategies for the general account. Prior to that, Bronchetti was executive director of debt capital markets for J.P. Morgan in New York.
Bronchetti received his bachelor's degree in finance, with a minor in economics, from Miami University in Oxford, Ohio. He is a graduate of the Executive Development Program at the Wharton School of the University of Pennsylvania and is a founding chapter executive of the Chartered Alternative Investment Analyst (CAIA) association and member of the Chartered Financial Analyst (CFA) Society of Philadelphia. Bronchetti holds his Series 7, Series 79 and Series 63 securities licenses.
Neczypor joined Lincoln Financial in 2018 as head of investment risk and strategy and since has taken on increasing responsibilities, including portfolio management, as well as leading Lincoln Financial's alternatives and structured credit portfolios. Over the course of his career, he has been an investor, industry analyst and strategic thought leader.
Before joining Lincoln Financial, Neczypor held portfolio management and investment roles at both Kingdon Capital and Emrys Partners. Prior to that, he was vice president of global investment research for banks and insurance at Goldman Sachs, where he assessed and evaluated companies' business strategy, execution and future earnings growth. Neczypor earned a bachelor of science degree in finance and accounting from Lehigh University. He is a CPA and holds his Series 7, 63, 86 and 87 securities licenses.
Smart Appoints M&A Director
Smart, a retirement technology provider, has announced that Paul Toon has joined the company as the group director of merger and acquisition (M&A), a newly created role. Toon will be responsible for overseeing and executing all aspects of acquisition globally.
Toon joins Smart from Legal & General Investment Management, where he led corporate development and oversaw a number of acquisitions and divestments during his tenure. Since Smart entered the U.S. market in October 2020, the company has continued to expand, naming its first U.S. board of directors.
The firm's leadership says the momentum will continue in 2022, as Smart has plans to announce a key partnership.
Moneta Names Chief Philanthropy Officer
The partner-owned advisory firm Moneta has announced the appointment of Deborah Dubin as its first-ever chief philanthropy officer (CPO).
The CPO position expands Moneta's portfolio of client advisory services to include consultation on how clients and their families can foster greater impact through their philanthropic activities. In this role, Dubin will serve as a champion for philanthropic best practices, including trust-based, inclusive and equitable grantmaking.
"This is an exciting opportunity to pioneer a new position at Moneta, offering a service that is unique in the industry," Dubin says. "I'm eager to help elevate Moneta and their clients' charitable efforts from transactional to transformational, while acting in alignment with their personal values and identified community needs."
Additionally, Dubin is charged with ensuring that Moneta Charitable Foundation initiatives tie directly into the firm's mission to empower others to navigate their life path and protect what they cherish. Dubin will also help lead the Moneta Charitable Foundation's newly launched financial literacy program, M-Power. The program will sponsor in-classroom financial education programming for high schools across all Moneta markets nationally, as well as financial wellness panels, hands-on service projects and other initiatives designed to promote sound financial habits and asset building community-wide.
Previously, Dubin served as CEO and president of Philanthropy Missouri. She graduated from Harvard University and earned her J.D. at the University of California, Berkeley. She is also a 21/64 Certified Advisor, mentoring others in giving practices that will benefit communities and build multigenerational legacies.