Retirement Industry People Moves
Russell Investments announces several new hires; Custodia Financial appoints P&C industry veteran to president; Mercer selects West market business leaders; and more.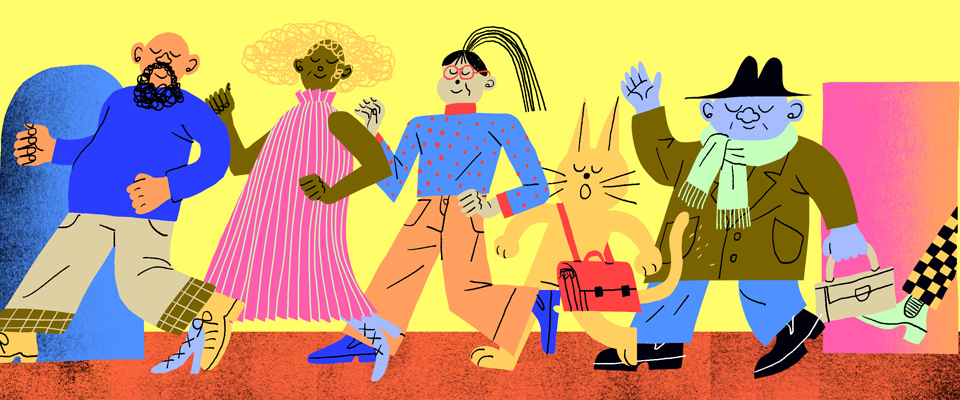 Russell Investments Announces Several New Hires
Kate El-Hillow has joined Russell Investments as global chief investment officer (CIO), and Kevin Klingert has been hired as president. Both El-Hillow and Klingert will serve on Russell Investments' executive committee and report to Chairman and CEO Michelle Seitz.

"Kate and Kevin join us at a critical time, as asset owners increasingly look to partner with solutions providers that deliver highly customized investment strategies tailored to specific outcomes," Seitz says. "Although we continue to see significant demand for investment solutions, only one in four asset owners with less than $10 billion in assets have outsourced their investment activities. Kate and Kevin will further enable Russell Investments to capture the industry's growth while leveraging our expansive global franchise to provide a frictionless experience to our clients."

El-Hillow will oversee all aspects of the firm's investment division, including portfolio management, implementation and research. During her 17 years at Goldman Sachs, El-Hillow worked in the firm's New York and London offices in the $150 billion global multi-asset solutions business. Most recently, she served as deputy CIO and prior to that, she was a senior portfolio manager for outsourced chief investment officer (OCIO) portfolios and head of portfolio management and trading. She has wide-ranging experience in portfolio construction, dynamic multi-asset allocation and risk management. El-Hillow previously spent eight years at J.P. Morgan Chase & Co., where she held dual roles as client portfolio manager and chief operating officer (COO) in the asset allocation business. 


Klingert will focus on day-to-day business execution. He will work alongside Russell Investments' leadership team, overseeing the firm's sales and support functions. During 10 years at Morgan Stanley Investment Management, he held a variety of senior roles including COO, acting CIO of fixed income, and head of liquidity and managed futures. He developed and expanded Morgan Stanley's global distribution efforts and led numerous technology and operations upgrades, including the firm's risk and order management systems. Prior to Morgan Stanley, Klingert spent 15 years at BlackRock. In 1991, he launched BlackRock's Tax-Exempt Fixed Income business. He also managed the firm's cash management businesses, worked extensively on new client development, and served on the management committee.  

Chief Operating Officer Rick Smirl has accepted a position at another asset management firm. He departed at the end of April, and Klingert now oversees the firm's operations functions.

Pete Gunning, Russell Investments' CIO since 2018 and a 25-year veteran of the firm, will take on a new role as vice chairman and strategic relationships officer. Reporting directly to Seitz, Gunning is focused on deepening the firm's relationships with key clients while embracing responsible investing practices. Gunning will also work to ensure that Russell Investments' global client base can seamlessly leverage the firm's open-architecture investment solutions.
Custodia Financial Appoints P&C Industry Veteran to President
Custodia Financial has appointed property and casualty (P&C) insurance industry veteran Mark Herman to president, reporting to CEO Tod A. Ruble. Herman had previously supported the company as an investor and strategic adviser.
"Mark has over 35 years of executive and 'hands-on' operating experience with some of the world's most recognized P&C insurers. He was recently president of CNA Specialty following C-suite executive roles at Everest Re, Ariel Re and Ace Ltd. Mark understands and believes in Custodia's purpose. His institutional experience and knowledge will be valuable in helping Custodia achieve the market positioning and growth that we are currently encountering," says Ruble. "Mark, the team and I will work closely to support our mission of improving employee's retirement outcomes with an entirely new product that protects plan sponsor organizations and employees against 401(k) loan defaults due to involuntary termination, death and disability."
"I am excited to be joining Custodia," says Herman. "I've spent over two years getting to know Tod and the team and they've done an amazing job. RLE is developing and commercializing an entirely new paradigm and product in an industry with very few truly new ideas or products, and most importantly a virtuous outcome. Custodia has built an end-to-end insurtech solution that's been meticulously researched and is fully operational. I'm proud and happy to be joining at this important moment."
Mercer Selects West Market Business Leaders
Mercer has appointed Kevin Poff as West career market business leader, effective May 1. His responsibilities include building brand and market awareness, driving revenue growth, leading a strong team of consultants and providing strategic direction in Mercer's career line of business west of the Rocky Mountains.
Lisa Stella will succeed Poff as Southern California career office business leader. In this role, Stella will focus on career clients and colleagues in Orange County and Southern California. Both Poff and Stella are based in Los Angeles.
"We are thrilled to have Kevin and Lisa take on these key leadership roles," says Macaire Pace, Mercer's West market CEO. "As we look to manage risk, responsibility and a return to the office post-pandemic, we are confident that their experience and proven track record will help us deliver exceptional client service, while fueling our growth across the West."
Poff began his career at Mercer nearly 15 years ago, where he served as an analyst supporting the West market, and has led the SoCal Career business for the past three years. Poff earned his bachelor's degree at University of California and his Master of Business Administration at Northwestern University.
Stella has nine years of experience at Mercer, most recently serving as a principal and senior consultant in Mercer's career line of business, where she advised clients on people strategy across the employee experience. She earned her bachelor's degree at Harvard University, master's in politics and education at Teachers College of Columbia University, and a master's in business administration from University of California, Anderson School of Management.
TRA Completes Acquisition of John T. Toomey Associates
The Retirement Advantage Inc. (TRA) announced it has completed the acquisition of John T. Toomey Associates Inc. of Hingham, Massachusetts.
"I am thrilled to announce the transaction and our continued expansion into the New England area," says Matt Schoneman, president and owner of TRA. "The acquisition of John T. Toomey Associates Inc. strengthens our position as a leading provider of innovative retirement planning solutions across the country. I have tremendous respect for the associates of John T. Toomey Associates Inc. and the company they have built since its founding in 1985. Their team has successfully developed a highly regarded third-party administration [TPA] business, proven by their historical growth and ability to consistently meet their client's expectations. I am pleased to welcome the Toomey Associates team and their valued clients to our organization."
Jack Toomey, president and owner of John T. Toomey Associates Inc., adds, "We are extremely excited to officially become part of TRA. We believe that pairing our team's in-depth knowledge of our local markets and communities with the more robust capabilities of TRA will enhance our administrative capacity and provide additional valuable service capabilities. With the synergies of the combined organizations, we believe this transaction will deliver significant value to both our clients and the communities we serve."
"TRA and John T. Toomey Associates Inc. share complementary business models and similar core values that focus on client service, industry expertise and growth. This will be a terrific partnership for both ownership groups," says Jeff Schreiber, TRA's vice president of distribution. "In addition to expanding our footprint, we're also adding valuable resources and talented professionals. We believe there are opportunities to expand the services available to the newly-acquired clients and the advisers who serve them."
Ascensus' FuturePlan Adds DVP for Southeast and Southwest Regions
FuturePlan by Ascensus has appointed Mark Wiggins as divisional vice president (DVP) for the Southeast and Southwest regions. He will report to Kasey Price, FuturePlan's head of sales.

Wiggins previously served as a vice president, sales consultant within FuturePlan. In his new role, he will offer consultative support to retirement plan clients while expanding relationships with strategic recordkeeping and financial adviser partners. He will also be responsible for creating and implementing growth strategies for FuturePlan's sales team.

Prior to joining FuturePlan, he was a partner and director of sales at Avintus, a service-focused, Nashville-based third-party administrator (TPA) that became part of FuturePlan in 2018. He has also held positions in sales and leadership at AT&T and BellSouth.

Wiggins earned his bachelor's degree in marketing from the University of Georgia and his Master of Business Administration from Lipscomb University. He also holds a Chartered Retirement Plan Specialist designation.
American Trust Retirement Acquires Stanley Benefit Services

AT Retirement Services LLC (American Trust Retirement) has acquired Stanley Benefit Services Inc., an independent employee benefits consulting firm based in Greensboro, North Carolina.
The acquisition expands American Trust Retirement's expertise in the mid-market space, adds an in-house actuarial team, and supports a broader offering in the defined benefit (DB) and cash balance plan market. American Trust Retirement is a subsidiary of EdgeCo Holdings, a leading provider of technology-enabled solutions to financial intermediaries and their clients.
This is American Trust Retirement's second acquisition within the past year—having also recently acquired Unified Trust Co., a national provider of retirement plan solutions and fiduciary services.
Fund Direct Advisors Inc., a Securities and Exchange Commission (SEC) registered investment advisory firm which shares similar ownership with Stanley Benefits, will not be part of the acquisition and will remain independent under the continued leadership of Wes Stanley and Chris Stanley. The remaining team members of Stanley Benefits, including Bill Stanley, senior vice president, and Chris Francis, vice president, will become employees of American Trust Retirement.
"We have proactively sought to align with groups who can elevate our offering, benefit from our tremendous investment in technology and provide expanded resources for our clients," says John Moody, chief executive officer of EdgeCo Holdings. "The Stanley Benefits deal allows us to expand further into the midsize plan market and sharpen our defined benefit offerings, providing even more specialized services to support our financial intermediary partners. I am thrilled to welcome aboard the Stanley Benefits team."
Stanley Benefits will be rebranded to Stanley Benefit Services, A Division of American Trust Retirement, eventually transitioning to the American Trust name.