The Fidelity Global Institutional Investor Survey: The Future of Investment Management
What will the investment world look like in 2025?
Sponsored by Fidelity Investments
The institutional investment industry is poised for a seismic transformation.
In the past, change has come slowly to an industry rooted in long-standing traditions and partnerships. Now, however, a digital revolution triggered by emerging technologies has seeded sharp new thinking about the future of investment management.
This survey from Fidelity Institutional Asset Management
®
reveals that global institutional investors are adopting innovative applications of technology at a significantly accelerated pace, and are generally confident that disruptive approaches will reshape the investing ecosystem over the next seven years.
In an environment that is already drastically changing—due to cyclical volatility, geopolitical risks, and monetary policy, just to name a few factors—the ground beneath investors is primed to shift. Those who are not prepared may be left behind. But those at the cutting edge may be courting unexpected risks.

Expectations for change may vary
Of course, not all institutional investors agree that change is coming fast. Although the majority in all regions expect transformational change, a significant proportion of investors in the Americas believe the investing world of 2025 will be much like it is now.
What Will Be Different
New entrants will be no surprise
A majority of institutional investors expect to see new service providers come into the industry, whether they are established non-financial firms, tech startups, or "Big Internet" players (Google, Amazon, Facebook). Indeed, some non-traditional players have already ventured into financial services with personal banking, loans, or retail investment products. "Digital first" business models could change how investment products and services are created and used. While these new entrants have the potential to deliver significant value, a rapidly evolving ecosystem could create new systemic risks.

Markets will become more efficient
Across geographies, a majority of institutional investors expect markets to become more efficient, driven by high-frequency trading algorithms and quantitative investment strategies. These approaches could potentially reduce costs. They may also make the competition for excess return more intense, spurring faster investment implementation and decision-making. Many respondents indicated that big data and AI would become essential tools in accelerating the pace of investing, requiring institutions to develop or acquire new skills.
Blockchain will enter the institutional mainstream
Around the world, institutional investors expect blockchain or similar technologies to fundamentally change investment operations. New technologies are expected to cut out intermediaries, increase the security and speed of transactions, and reduce costs. Moreover, the majority of investors expect tech-based asset classes (like cryptocurrency) to emerge. But not everyone agrees: Investors in the Americas were much less convinced than their worldwide peers.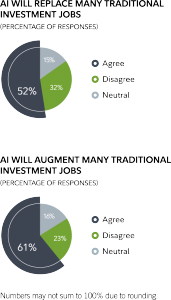 Spotlight on Artificial Intelligence (AI)
AI will augment—or even replace—humans
Institutional investors see the implementation of AI and other cutting-edge technology as a trigger for widespread disruptions, changing both traditional investment jobs and the practices that reinforce competitive advantages between investors. Developing the institutional skills to evaluate, monitor, and implement
AI may become crucial as this shift gains momentum.
Some functions are more likely to rely on AI than others
Investors expect to rely on AI for monitoring and evaluating performance and risk, and for asset allocation. Perhaps more surprisingly, confidence extends to certain complex investment-based tasks. For example, nearly half of global institutions believe they will rely on AI to recommend or select managers. Institutions primed for AI to take over key investment processes could encounter a whole new set of considerations in performing due diligence.
Expectations are motivating actions
Except in the Americas, the majority of institutional investors are either implementing, testing, or exploring the use of AI in decision-making. And while these are still early days for AI implementation, institutions who are utilizing it indicated high confidence that the technology is delivering on its promise of improving investment decision-making. Institutions that are reluctant to explore potential uses may be left behind, but early adopters may face unanticipated risks.
Implications for Institutions
Based on the survey's findings, we encourage institutional investors to examine their commitment to having the right team in place to embrace new technologies. For those testing AI, blockchain, and other innovations—and even those still sitting on the sidelines—now is the time to build a deeper understanding of these powerful new tools, and a clear sense of how peers and partners are using them. As with any cutting-edge approach, unanticipated risks will emerge and caution is advisable. But those who are not exploring transformative technology and recognizing its potential impact on the investment ecosystem could rapidly find themselves falling out of touch.
For more data and insights, see
go.fidelity.com/globalsurvey
.
---
About the Survey
The Fidelity Global Institutional Investor Survey is one of the largest in the industry. The survey polled chief executive officers, chief investment officers, treasurers, and other investment executives at 905 institutions in 25 countries across the Americas, Europe, and Asia.* At the time of the survey, these organizations cumulatively represented more than $29 trillion (USD) in investable assets. Institutional investors surveyed included private- and public-sector pensions, insurance companies, endowments and foundations, and sovereign wealth funds. Fidelity Institutional Asset Management (FIAM) conducted the survey of institutional investors from June through July 2018. The surveys were executed in association with Strategic Insight, Inc., in the United States and Canada, and with FT Remark, a Financial Times company, in Europe, Asia, and the remaining countries.† Institutional executives responded to an online questionnaire or a telephone inquiry.

About the Fidelity Research Institute
The Fidelity Research Institute presents forward-leaning thought leadership, curated for institutional investors and bolstered by Fidelity's experience in building and enhancing multi-asset class portfolios. The mission of the Fidelity Research Institute is to help institutional clients find solutions that address their most pressing needs.
---
* Regions (countries) surveyed include the Americas (Brazil, Canada, Mexico, United States), Asia ex. Japan (Australia, China, Hong Kong, Singapore, South Korea, Taiwan), Europe ex. UK (Denmark, Finland, France, Germany, Iceland, Italy, Netherlands, Norway, Portugal, Spain, Sweden, Switzerland, South Africa), Japan, and the United Kingdom.
† Fidelity Investments and FIAM are unaffiliated with Strategic Insight, Inc., and the Financial Times. The article content is provided by Fidelity Institutional Asset Management® (FIAM®). FIAM and PLANSPONSOR are unaffiliated.
All trademarks and service marks presented herein belong to FMR LLC or an affiliate, except for third-party trademarks and service marks, which belong to their respective owners. Information presented herein is for discussion and illustrative purposes only and is not a recommendation or an offer or solicitation to buy or sell any securities.
FIAM does not provide legal or tax advice, and we encourage you to consult your lawyer, accountant, or other advisor before making any financial decisions.
© 2018 FMR LLC. All rights reserved.
Fidelity Investments Institutional Services Company, Inc., 500 Salem St., Smithfield, RI 02917
864422.1.0