Retirement Industry People Moves
MetLife Investment Management fills lead LDI strategist role; Smart adds head of fiduciary oversight; Principal announces new U.S. retirement business president; and more.
Reported by
DJ Shaw
Art by
Subin Yang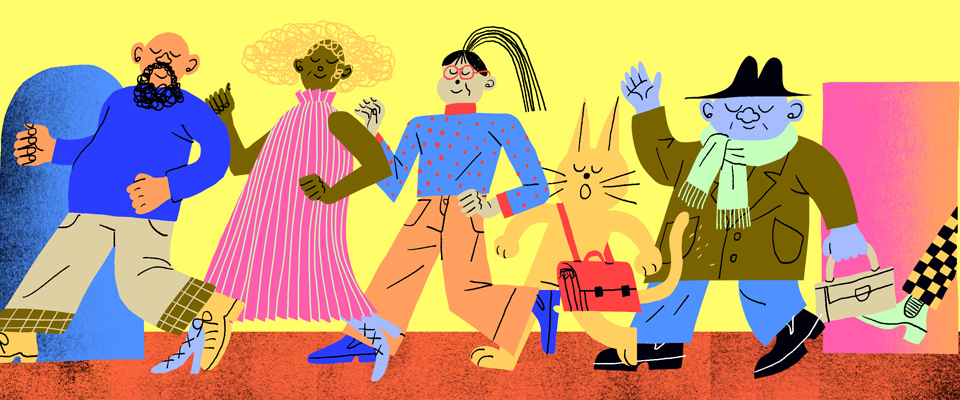 MetLife Investment Mana

ge

ment Fills Lead LDI Strategist Role
MetLife Investment Management (MIM) has announced that it has hired Jeff Passmore to a newly created role of lead liability-driven investing (LDI) strategist in the firm's public fixed-income department.
Passmore will serve in a value-added capacity by collaborating with the firm's existing pension clients and their consultants to develop or potentially enhance existing LDI strategies. In addition, he will partner with a variety of groups at MIM to develop new product offerings that meet its pension clients' evolving LDI needs.
Passmore joins MIM from Barrow Hanley Global Investors, where he held a similar role. A former pension and investment actuary, he will apply direct industry experience in service of MIM clients. In addition, his experience in creating custom liability benchmarks and developing liability hedging overlay strategies will further enhance MIM's suite of LDI product offerings and complement its broader fixed income platform.
"We understand that LDI investing will continue to adapt and evolve in ways that are important to our clients and we believe we can offer value in this area," says Stephen Mullin, head of long-duration and LDI strategies at MIM. "Jeff's deep expertise in asset/liability matching and actuarial understanding of plan design will ensure that our pension clients receive the highest caliber service as they continue to pursue de-risking strategies and work toward their pension objectives."
GW&K Investment Management Expands Municipal Bond Team
GW&K Investment Management, an investment management firm offering active equity and fixed-income investment solutions, has announced that it is expanding its municipal bond team with the hiring of Kara South as principal and portfolio manager. She is based in the firm's Boston headquarters.
South, who is also a member of the firm's investment committee, will participate in the portfolio management of all the firm's municipal bond strategies. A seasoned fixed-income manager with deep knowledge of the market, including experience managing taxable municipal bonds and environmental, social and governance (ESG) strategies, she will be able to draw on her extensive research and management expertise in the evaluation of market risks, opportunities and strategic portfolio positioning.
South joins a team of 15 municipal bond investment professionals who average 19 years at the firm and 23 years investment experience. She will report to Nancy Angell and John Fox, co-directors of fixed income at the firm.
"We see Kara's hiring as particularly strategic as our muni bond assets grow and the business expands," says Harold Kotler, a founding partner, chief investment officer (CIO) and CEO of GW&K. "Not only does Kara bring exceptional experience, but we believe she is also a great cultural fit."
South joins GW&K from Income Research + Management (IR+M), where she was a senior portfolio manager and co-director of credit research and a member of the investment committee. Before joining IR+M, she was a securities valuation analyst at John Hancock Financial. She began her career at Wachovia Corp. (now Wells Fargo), where she was an interest rate derivative analyst.
South earned a bachelor's degree in economics and psychology from Cornell University and is a Chartered Financial Analyst (CFA) charterholder.
Smart Adds Head of Fiduciary Oversight
Smart, a global retirement technology provider, has announced the growth of its team with the hire of certified investment management analyst Angela Lester-Morrow as head of fiduciary oversight.
Smart recently announced a retirement plan solution for the U.S. market, launching in 2022. In addition to that solution, Smart is delivering a comprehensive retirement platform that will enable multiple partners to help deliver savings solutions that aid in closing the U.S. retirement coverage gap, as well as solutions geared toward delivering retirement income. In some of its partnerships, Smart will assume the role of the pooled plan provider (PPP) to oversee a pooled employer plan (PEP). In her role, Lester-Morrow will establish a structure for fiduciary oversight and the reporting of investment solutions offered on the platform to fulfill the governance requirements of the PPP.
Lester-Morrow will partner with the product strategy and platform teams to ensure oversight processes, data and reporting needs are included as part of their road map. She will work closely with Smart's global teams to share insights and best practices on investment selection and oversight.
"Angela, who brings a wealth of industry knowledge and client experience, is an impressive addition to our team," says Jodan Ledford, CEO of Smart in the U.S. "Her joining reflects the exciting momentum to come for Smart in terms of our platform and partnerships."
Lester-Morrow brings extensive experience in investment analysis, investment research, manager oversight and asset allocation. She joins Smart from BPAS, where she spent four years leading fiduciary oversight and the due diligence process for current and prospective investments. Prior to this, she spent four years at Nationwide Financial, where she built and managed core product oversight functions and competitive intelligence tools.
Lester-Morrow will report into the Nashville-based team, which recently grew its bench of professionals across platform technology, compliance, marketing, business transformation, employee and client experience.
AllianceBernstein Announces First Global Head of ETFs 
AllianceBernstein L.P. (AB), a leading research and global investment firm, has announced that Noel Archard will join the firm as global head of exchange traded funds (ETFs) and portfolio solutions, effective February 7. Under Archard's leadership, the firm plans to launch an initial set of active ETF offerings later this year in the U.S.
In this new role for the firm, Archard will be responsible for bringing AB's diverse set of investment capabilities to the active ETF marketplace. He will report to Onur Erzan, head of the global client group.
"Establishing the firm's first-ever global head of ETFs and portfolio solutions role and adding Noel to the team creates an opportunity for AB to generate an innovative and differentiated offering in a crowded space," Erzan says. "We are confident that Noel's leadership will be instrumental to the success of not only our ETF business, launching later this year, but also our broader portfolio solutions including next generation SMAs and model portfolios."
Archard joins AB from State Street Global Advisors, where he most recently served as the global head of product. He brings two decades of ETF and product experience to AB, with previous leadership roles at BlackRock and Vanguard.
Calfee, Halter & Griswold Announces New Partner
Calfee, Halter & Griswold LLP has announced that Jason A. Rothman has joined the firm's employee benefits and executive compensation practice group as a partner in the Cleveland office.
Rothman has experience advising publicly traded companies, closely held businesses and nonprofit organizations on all aspects of qualified and nonqualified employee benefit plans, executive compensation plans, health and welfare plans, employment agreements and other related legal and compliance issues.
"I'm very pleased to be returning to Calfee, both to help support the firm's clients and also to continue to serve my existing clients while offering them the cost-efficiency and client service benefits of working with a full-service, midsized law firm," Rothman says.
Rothman counsels clients on their tax-qualified plans, including plan design and adoption, compliance, day-to-day plan operation, fiduciary compliance, IRS and Department of Labor (DOL) plan audits and submissions under the Employee Plans Compliance Resolution System (EPCRS), the Voluntary Fiduciary Correction Program (VFCP) and the Delinquent Filer Voluntary Compliance Program (DFVCP).
In addition, Rothman advises employers on their welfare benefit plan compliance issues, including counseling employers on the Patient Protection and Affordable Care Act (ACA), the Consolidated Omnibus Budget Reconciliation Act (COBRA), the Health Insurance Portability and Accountability Act (HIPAA), the Employee Retirement Income Security Act (ERISA) and wellness plan design.
Intech to Become a Private, Fully Independent Company
Intech Investment Management LLC, a specialized global quantitative equity manager, and Janus Henderson Group plc have announced that Intech's management team will acquire the company from Janus Henderson. The transaction is expected to close before the end of the first half of 2022. The financial terms of the transaction were not disclosed.
Upon completion of the transaction, Intech will become a fully independent company, increasing its alignment with clients and providing additional flexibility. Intech will be 100% owned by the company's founder, employees and board members.
As part of the transaction, Intech will form a new board of directors chaired by Churchill Franklin, co-founder and former CEO of Acadian Asset Management. Franklin will be joined by a highly accomplished and experienced team, including Nobel Laureate Myron Scholes and Larry Leibowitz, former chief operating officer (COO) of the New York Stock Exchange. The new board will assume an active role in overseeing the company's go-forward strategy and all other aspects of the business.
Additionally, Intech is announcing a new CEO and the following leadership updates:
Jose Marques, the former head of trading at Bridgewater Associates and current CEO of Entrypoint Capital, will become CEO of Intech, overseeing the company's overall operations. Marques will also join the board as a director.
Adrian Banner will transition from his role as CEO and become dedicated chief investment officer (CIO) of Intech, fortifying the company's focus on portfolio management and research. He will continue to serve on the board.
Jian Tang will be promoted to portfolio manager, focusing on enhancing Intech's investment management process.
The announcement has no impact on how the company manages client assets.
Segal Marco Advisors Appoints New Chief Investment Officer
Segal Marco Advisors has announced that Sue Crotty will become the company's chief investment officer (CIO) as Tim Barron, senior vice president and outgoing CIO, retires. A detailed succession plan is already being instituted, according to the firm.
"I'm excited to congratulate Sue Crotty on her role as chief investment officer. Her extensive investment expertise will guide our clients and company on a new level," says John DeMairo, president and CEO of Segal Marco Advisors. "Words cannot adequately express my immense appreciation for Tim Barron and all that he has done for our firm over the past 10 years, and the impact he has had on the industry."
As of April 1, Crotty will lead the firm's research department and oversee all investment activities for the firm's more than $600 billion assets under advisement (AUA). Her team will encompass risk management, manager research, discretionary/global portfolio solutions, intellectual capital and adviser solutions. The team leaders each average over 20 years of industry experience.
Principal Announces New U.S. Retirement Business President
Principal Financial Group has announced Chris Littlefield, executive vice president and general counsel, will become president of retirement and income solutions (RIS) effective April 1. This follows the decision of Renee Schaaf, current president of RIS, to retire after more than 41 years with the company.
Prior to Principal, Littlefield served as president and CEO of two life insurance and annuity companies—Fidelity & Guaranty Life Insurance Holdings and Aviva USA Corp. When he joined Principal in 2020 as general counsel, he was responsible for leading the legal, government relations and compliance departments. He also served as corporate secretary to the board of directors. 
In Littlefield's new role, he will be responsible for leading the retirement business at Principal, serving the retirement savings and income needs of over 40,000 employers and 10 million individual customers.
Mark Lagomarcino, who previously served as senior vice president and deputy general counsel, will step into the general counsel role as part of Littlefield's transition. He will also serve as corporate secretary to the board.
Schaaf departs Principal after serving in key leadership roles across the organization. Most recently, she led Principal through the transformation of its retirement business with the acquisition and integration of Wells Fargo Institutional Retirement and Trust. This doubled the size of the company's U.S. retirement footprint. Prior to RIS, Renee led strategy and business development as chief operating officer (COO) for Principal International.
Oak Hill Advisors Hires First Head of ESG and Corporate Sustainability
Oak Hill Advisors (OHA), an alternative credit manager, has announced that it has hired Jeffrey Cohen as its first head of environmental, social and governance (ESG) and sustainability. This hire represents OHA's continued commitment to further integrating the firm's ESG considerations into its investment process and advancing the firm's sustainability initiatives.
Cohen will join the firm's ESG committee and work closely with its investment team and portfolio companies to further develop sustainability metrics across its portfolios. He will also join OHA's diversity and inclusion council to further strengthen its programs supporting a diverse, respectful and inclusive environment for its employees.
Cohen will report to Bill Bohnsack, OHA's president and senior partner.
Previously, Cohen was director of capital markets integration and head of private investments initiatives at the Sustainability Accounting Standards Board Foundation (SASB). In this capacity, he advised alternatives investors on the development and integration of ESG factors into various phases of the investment process.
Cohen earned an master's degree in business administration from the Georgetown University McDonough School of Business and a bachelor's degree from the University of Michigan's Ross School of Business.
« DOL Announces Enforcement Actions for Abandoned Plan and Missed Contributions