Retirement Industry People Moves
Russell Investments hires endowment expert; SEI announces appointment of next CEO; Northern Trust Asset Management names co-head of fixed income; and more.
Reported by
DJ Shaw
Art by
Subin Yang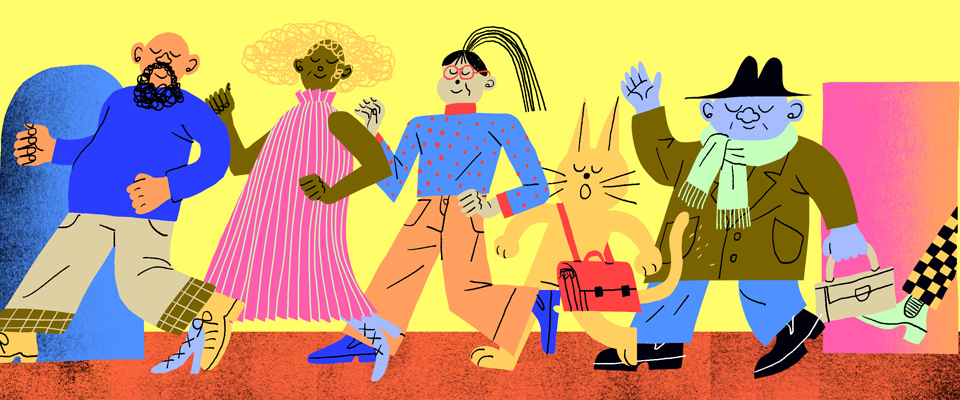 Russell Investments Hires Endowment Expert
Russell Investments has hired Samantha Foster as managing director of nonprofit outsourced chief investment officer solutions. Foster joined the firm from the University of Southern California endowment, where she spent 10 years as managing director in the investment office.
Foster will work closely with the firm's client chief investment officers, chief operating officers and investment division teams to bring OCIO solutions for asset owners, says Lisa Schneider, managing director, non-profits and health care systems and head of market leadership at Russell Investments.
Having overseen $2 billion in assets for one of the top endowments in the U.S., Foster has deep expertise in the unique needs of nonprofit institutions, including investing across asset classes, risk, asset allocation and operations management. Foster also oversaw the pension plan and charitable trust investments.
Prior to joining USC, Foster was as an associate director at Pacific Alternative Asset Management Company, where she served as chair of the risk management committee and invested across hedge fund strategies. She began her investment career as a research analyst with Bailard, Biehl & Kaiser.
Working with industry groups, including leadership of the Standards Board for Alternative Investments and the Women in Institutional Investing Network, Foster has advocated for investment transparency, detailed risk reporting, environmental, social and governance policy and inclusive work cultures. Foster holds a Certificate in Quantitative Finance.
Foster earned her MBA from the Stanford Graduate School of Business and a B.S. from the California Institute of Technology.
SEI Announces Appointment of Next CEO 
SEI has announced that Ryan Hicke, executive vice president and chief information officer, will become the company's next chief executive officer and a member of its board of directors, effective June 1. Hicke will succeed founder Alfred P. West, Jr., who is transitioning to the role of executive chairman after leading SEI for more than 50 years. The executive management team, currently reporting to West, will report to Hicke effective June 1. 
Throughout his 24-year career at SEI, Hicke has held a number of senior leadership positions across the company's global businesses, playing an important role in creating and executing SEI's business strategy. His diverse experience informs his commitment to the company's strengths across its three pillars of expertise—investments, operations and technology. 
Hicke previously served as a senior vice president, leading SEI's U.K. asset management and private banking businesses and significantly contributing to the expansion of SEI's global footprint. As chief information officer, he is responsible for SEI's information technology strategy and execution, the company's U.S. investment operations, and leading SEI Sphere, a new business initiative in cyber and data protection services. 
As executive chairman, West will work closely with Hicke and SEI's executive management team to ensure a smooth and successful transition. West will remain focused on further advancing SEI's position as a global provider of technology and investment solutions that connect the financial services industry. 
Hicke resides in the Philadelphia area with his wife and five children. He holds a degree in finance from Saint Joseph's University and serves on the board of directors for the Philadelphia Alliance for Capital and Technologies. 
Northern Trust Asset Management Names Co-Head of Fixed Income
Northern Trust Asset Management has announced that Thomas Swaney has joined the firm as executive vice president and co-head of fixed income for the global financial institution with $1.3 trillion in assets under management, including $551 billion in fixed income, as of December 31.
Swaney will share overall oversight responsibility, including strategy, process and approach for the firm's fixed-income strategies, with fellow EVP and fixed income co-head Colin Robertson, a 35-year veteran of fixed-income investing. Their joint roles are part of a succession plan on which Robertson has been working closely with Angelo Manioudakis, NTAM chief investment officer, to prepare for Robertson's eventual retirement. No retirement date has been set.
Both Robertson and Swaney will report to Manioudakis. Additionally, Swaney will join Manioudakis and Robertson on NTAM's investment policy committee, which sets investment policy for all Northern Trust groups in all asset classes.
Swaney brings extensive experience to the position, having served in senior roles at several global financial firms during his 25-year career in investment management, including as managing partner with Lantern Harbor Investment Partners, a Boston-based institutional fixed income investment firm which he co-founded with Manioudakis. He also held executive and senior portfolio management roles at Ellington Management Group, Amundi Asset Management, J.P. Morgan Asset Management, OFI Global Asset Management and Morgan Stanley Investment Management.
Swaney earned an MBA from the Pennsylvania State University and a M.S. in finance from the Kelley School of Business at Indiana University. He has authored several white papers on topics in portfolio construction as well as research-oriented papers articulating structural opportunities across fixed-income markets.
Hamilton Lane Announces New Appointments
Private markets investment management firm Hamilton Lane has announced some strategic hires.
The firm recently welcomed Elizabeth Bell as principal on the real assets investment team and Steve Binder as head of Taft Hartley services.
Bell, based in the firm's Conshohocken, Pennsylvania, headquarters, joins Hamilton Lane from the real estate private equity team at Jaguar Growth Partners, where in 2019 she was named to WSJ Pro Private Equity's "Women to Watch in Private Equity" list.  She will focus on real estate funds, co-investments, direct investments and secondaries.
Binder joins the firm as managing director and head of Taft-Hartley Services, also based in Conshohocken. Prior to Hamilton Lane he was with Chartwell Investment Partners. He brings more than 20 years of experience in the Taft-Hartley market.
T. Rowe Price Names New Chief Operating Officer
T. Rowe Price Group Inc.
has announced that
Kimberly Johnson
has been named
chief operating officer
, effective April 29. Johnson will report to
Rob Sharps, CEO and president
, and will serve on the management committee.
As COO, Johnson will lead global technology, global investment operations, global client account services, enterprise change, real estate and workplace services, enterprise risk and the regional operating teams.
Johnson joins T. Rowe Price from Fannie Mae, where she served as executive vice president, chief operating officer, and a member of Fannie Mae's management committee. As Fannie Mae's COO, Johnson managed a team of 3,600 and a $1.4 billion operating budget and was responsible for the company's technology, operations, data, modeling, analytics, information security, resiliency, innovation and corporate strategy. She also led Fannie Mae's digital transformation, establishing a four-year enterprise modernization plan and an operational roadmap for redesigning business processes and reengineering core technology.
Johnson holds a B.A. in economics from Princeton University and an MBA from Columbia University. She serves as a board member for Eli Lilly and many nonprofits. Additionally, Johnson serves as a member of the board of trustees for Princeton University.
Voya Financial Hires Customer Experience Leader
Voya Financial Inc. has announced the hire of Jessica Saperstein to the position of chief customer experience officer.
In this role, Saperstein will lead a team responsible for creating and executing a long-term customer experience plan to ensure that Voya's customer touchpoints create engaging and memorable experiences. To do this, Saperstein will collaborate with customer- and user-experience leaders across Voya's organization—including health solutions, wealth solutions and investment management teams—to build upon Voya's current solutions.
Saperstein will be based out of Voya's New York office in a hybrid-working model. She will report to Charlie Nelson, vice chairman and chief growth officer, effective April 4.
Most recently, Saperstein was head of marketing and customer experience for Novartis Pharmaceuticals, where she was responsible for innovation, digital transformation and agile marketing program delivery. With more than 20 years of industry experience, Saperstein's background includes extensive work across marketing, digital transformation and global business and corporate strategy.
Previously, Saperstein served as head of global strategy at Avis Budget Group, and has also held roles leading strategy, business development and customer experience at ADP. She holds bachelor's degrees in economics and communications from the University of Pennsylvania (Wharton) and an MBA from Columbia Business School.
CAPTRUST Names New Retirement Plan Consulting Director
CAPTRUST has welcomed Dawn McPherson to the firm as a director of retirement plan consulting. In this role, McPherson is responsible for development of consulting services to address the needs of CAPTRUST's clients, overseeing ERISA technical issues and retirement industry trends and initiatives. She will also focus on ensuring that CAPTRUST continues to stay ahead of changes and developments within the retirement plan arena.
McPherson joined CAPTRUST from Mariner Wealth Advisors, where she was a director of retirement plan solutions. She has also worked as an account executive at SageView Advisory Group and an internal wholesaler at American Century Investments. She earned her B.A. in humanities from Bob Jones University, and has worked in the industry since 1997.