Retirement Industry People Moves
Faegre Drinker names benefits and executive compensation partner; Smart enters into agreement to acquire Stadion; MidAmerica joins USRBP; and more.
Reported by
DJ Shaw
Art by
Subin Yang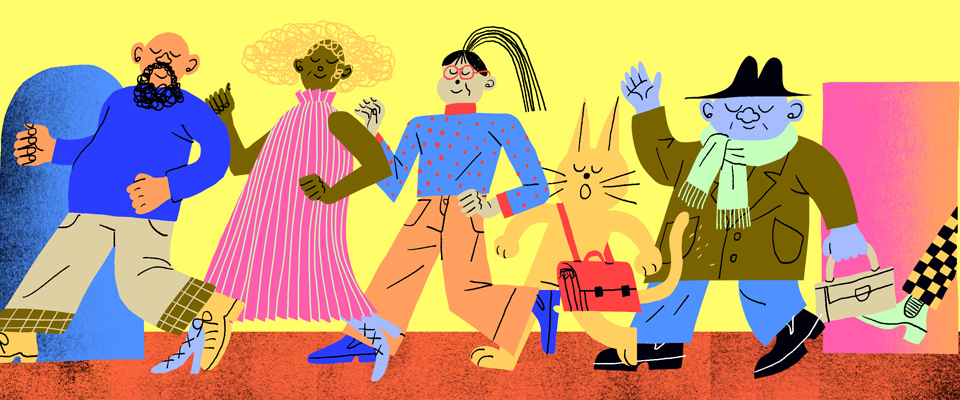 Faegre Drinker Names Benefits and Executive Compensation Partner
Faegre Drinker has announced that Kendra Roberson has joined the firm as a partner in the benefits and executive compensation practice group in the Washington, D.C., office. She comes to the firm from Covington & Burling, where she practiced for 18 years.
Roberson has nearly two decades of experience and designs and implements health and welfare plans, retirement plans, executive compensation agreements and equity compensation plans. She has deep knowledge of health and welfare plan compliance issues and provides creative solutions to implementing increasing regulations affecting those plans. Roberson has represented public companies, tax-exempt organizations, universities and governments in these areas.
Roberson has extensive experience providing advice to Fortune 500 companies on benefits and executive compensation matters. She also has experience representing clients before the Internal Revenue Service (IRS), the Department of Labor (DOL) and the Pension Benefit Guaranty Corporation (PBGC).
Examples of matters Roberson has counseled include advising a client in the settlement of $1.7 billion in pension obligations by purchasing a group annuity contract that covers approximately 70,000 plan participants and disputing a request from the IRS on behalf of a client to make a multimillion-dollar employer shared responsibility payment under the Patient Protection and Affordable Care Act (ACA).
Roberson's prior experience includes serving as a clerk for Lawrence Koontz Jr., a judge on the Supreme Court of Virginia, and she is an active member of the American Bar Association Section of Taxation's Employee Benefits Committee. She earned her bachelor's degree from Old Dominion University, her master's degree in public policy from the College of William and Mary and her juris doctor's degree from the College of William and Mary Marshall-Wythe School of Law.
Smart Enters into Agreement to Acquire Stadion
Smart, a global retirement technology provider, has announced it has agreed to acquire Stadion Money Management through Smart's U.S. subsidiary.
Stadion is an independent managed account provider that offers retirement services to plan sponsors and participants, recordkeepers, asset managers and advisers. The acquisition marks the latest in a series of deals for Smart globally. The transaction is slated to close during the first quarter of 2022, and the terms of the deal were not disclosed. Post-acquisition, Stadion will become a wholly owned subsidiary of Smart. As part of the transaction, funds managed by TA Associates will sell 100% of their ownership in Stadion.
The firms' leadership says Stadion's technology and managed account knowledge will bolster Smart's ability to offer a suite of retirement technology that will help participants save and meet their objectives for, and spend confidently through, retirement. Smart will gain 40 additional professionals through Stadion, doubling the U.S. team to more than 80 employees.
Stadion's office near Athens, Georgia, will become a new footprint for Smart, extending the reach from its Nashville headquarters. The entire Stadion leadership team and staff will remain in place.
"This acquisition marks a pivotal moment for Smart, and also an important moment in combining tech, talent and resources to make a difference in retirement savings for Americans," says Jodan Ledford, CEO of Smart in the U.S. He cites Stadion's "strong track record in managed accounts and personalization" as reasons underpinning the acquisition.  
Smart's leadership say the company has ambitions to further its growth in the U.S. and will seek to align with additional like-minded strategic partners that share a vision for transforming retirement savings.
MidAmerica Joins USRBP
U.S. Retirement & Benefits Partners (USRBP) has announced that MidAmerica Administrative & Retirement Solutions (MidAmerica) has joined USRBP. Based in Florida, MidAmerica is a technology-based, independent, full-service third-party administrator (TPA) and compliance expert. It is exclusively focused on the public sector, providing 3121 (FICA [Federal Insurance Contributions Act] alternative), special say, health reimbursement account (HRA) and other postemployment benefits compliance and administration services. Its clients include public school systems, colleges, universities and governmental entities.
The company was formed in 1995 and uses its proprietary technology platforms to reduce employer costs, while providing compliance and administration services.
Raymond James & Associates Inc. served as exclusive financial adviser to MidAmerica.
Willis Towers Watson Appoints North American Investments Business Leader
Willis Towers Watson has announced the appointment of Nimisha Srivastava as head of investments for North America. In this role, Srivastava will be responsible for driving the growth strategy of the company's investments business in the region. She will report to Chris Ford, global head of investments.
Srivastava joined the company in 2014 in research, most recently serving as global head of credit research. Srivastava has a bachelor's of science degree in mathematics and operations research from Carnegie Mellon University and a master's degree in business administration, with a finance concentration, from the Massachusetts Institute of Technology (MIT) Sloan School of Management.
DCREC Names New Officers, Committee Co-Chairs
The Defined Contribution Real Estate Council (DCREC), an advocacy group promoting the inclusion of private commercial real estate and real estate securities to improve defined contribution (DC) retirement plan outcomes, has named its new officers and committee co-chairs for 2022 through 2023.
The new officer appointments are as follows:
Jani Venter, who is the executive director for the DC fund management team at J.P. Morgan Asset Management, will be co-president with Sara Shean, an executive director at PGIM Real Estate.
Erin Cho, who is a partner at Mayer Brown, will be co-secretary with Ian Matthew, who is a senior director for TIAA.
Tim Bolla, who is a portfolio management principal at BentallGreenOak, will be co-treasurer alongside with Jodi Fiser, who is a managing director at LaSalle Investment Management.
The following were named committee co-chairs:
Best practices – Michelle Cabala, who is assistant portfolio manager at PGIM Real Estate, will serve with Rob Palmeri, an executive director at UBS Asset Management.
Finance and evaluation – Dane Anderson, who is managing director for national appraisal and consulting services lead at SitusAMC, will serve with Aki Dellaportas, who is a senior vice president at Heitman.
Marketing – Matt Jago, who is senior manager of marketing and investor relations at RealBlocks, will serve with Howard Margolis, from Clarion Partners.
Strategic alliance – Greg Jenkins, who is managing director and head of institutional defined contribution at Invesco, will serve with Jennifer Perkins, a managing director and defined contribution portfolio manager at LaSalle.
The appointments are for a period of two years and all are effective January 1.
Reams Asset Management Hires Investment Analyst
Reams Asset Management, a fixed-income specialist, has announced that Antonina Tarassiouk has joined the firm as an investment analyst. Tarassiouk's areas of focus will be global interest rates and foreign currencies.
Previously, Tarassiouk was a vice president of foreign exchange sales for Barclays Capital, covering institutional accounts for both currency and precious metals transactions. Prior to Barclays, she was a portfolio manager and trader for the Central Bank of Mexico, managing a portion of the bank's foreign currency reserves. She reports directly to Dimitri Silva, portfolio manager and head of global interest rates and foreign exchange at Reams.
Originally from Russia, Tarassiouk has spent much of her life in Mexico and holds a bachelor's degree in economics from the Instituto Tecnológico Autónomo de México, as well as a master's degree in business administration from the Yale School of Management.